Here you can find all our one-shot adventures and experimental game episodes.
Animalia
Many of our special episodes appear to have a common theme – animals in bizarre situations. Here you can find our Champion of the Wild mini series as well as animal themed one shots.
Dark – a one shot adventure featuring Rory's Story Cubes and Gemhammer Deck of Wonder and its After Dark variant
Amy's Birthday Animalia was recorded for our cast member's birthday in 2019. The episode also used Rory's Story Cubes
Note: some links are affiliate links which can give us a small commission. You are of course welcome to buy without these links – especially from your FLGS

Endless Realms
Set on a land called Lumis, the Endless Realms area modern, original ttrpg setting and game system. There are innovative player races as well as a wide range of creatures and civilisations to discover.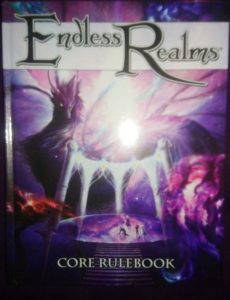 Halls of Chaos
A chaotic and anarchic puzzle solving game, this debuted publicly at Dragonmeet 2019
Conventions
Penance RPG have been at a number of UK conventions over the last few years, many of these trips have included recordings.