The Penance RPG cast who, over multiple series, have helped create magical, hilarious tales! Many more cast members have played in our games, these are those that have featured most prominently over the last 4 years.
AJ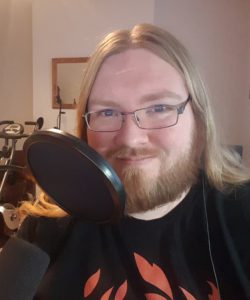 Having podcasted for nearly a decade – previously as co-host of 'Sup Dude' and most recently as the host and GM of fellow actual play podcast, Pretending With Dice – AJ joined Penance for their Curse of Penance and Plummet series, playing Ozmand in Curse, Igneous, Slasha, Professor Sinister and Dusty Dan McGraw. He is terrible at self promotion.*
Catch him play a variety of video games on Twitch.
What others see: "Daddy, that man looks like Thor!" – Little kid who pointed at me on the beach one time.

*NB: AJ does his own music and soundscapes for Pretending With Dice. Much of the Penance crew also guest on PWD
Amy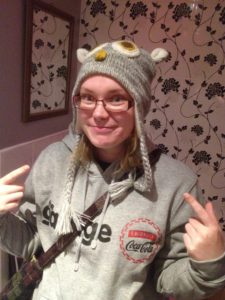 Amy has known the people behind Penance RPG for ahem many years. After moving around, she is now back in northern Scotland, with her fiance and pets. One of her characters, Meg, has migrated from the Penance version of Barovia to the homebrew world of Vallania, created by AJ of Pretending With Dice
Belry
A rampant imagination has led to Belry being known by the name of his first TTRPG character. Despite keeping that character alive during the Original Series, he has since gone through many characters in every subsequent series he's in!
His background in biology and zoology has influenced many of his character choices, having played Aracokra, snake morphed humans and a sentient guppy.
Dragon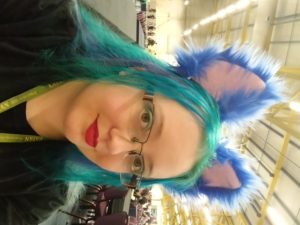 A gamer and crafter, Dragon was originally an archaeologist and worked from her home city of Glasgow. Disability halted that career and, following some time to recuperate, she joined the management of Penance RPG. She now runs the admin, social media, and business aspects of the actual play podcast.
Her characters include The Unnamed Rogue in the Original Series, Irois in 2115 and the narrator in Plummet.
Nikoli
Nikoli is an overgrown puppy. He is the creative genius & a founder behind Penance RPG, where he usually runs the games. Additionally, he is the main editor who makes the rambling recordings into entertaining episodes.
He lives in Glasgow with his partner, Meow, and their menagerie, who can occasionally be heard in the episodes.
Nikoli and Meow stream on Twitch 5 days a week playing a variety of games, some of which include other cast members, most often Tom who plays Tam-Tam in 2115
Rowan
"Hi, my name's Rowan, local cryptid. I have no idea where I'm from, it's like most of Europe at this point? I have a degree in palaeontology I never use. I work as a carer. I own many axolotls.
I joined Penance by accident and now it's the only social activity I do."
Rowan joined is season 3 of the Original Series as Andreadina and returned as Index in 2115. All of the official character art for 2115 has been created by Rowan!
SusieQ
When SusieQ isn't playing TTRPGs, people pay her to look after their animals. She lives in Renfrewshire, Scotland with her three horses, two cats and one partner, where she likes to fall asleep on the couch. SusieQ has been a part of Penance RPG since playing 13 (goblin Minion 13) in Abyss, but has been playing with the crew for too many years to count.